Susan G. Komen 3-Day
This weekend Kevin and I participated in the annual Susan G. Komen 3-Day: a 60 mile, three day walk around the Bay Area to raise money for breast cancer research, treatment and community programs.  Breast cancer is quite close to home for us as both our mothers are breast cancer survivors.  Between us we were able to raise $5650 for the cause, many thanks to all the friends, colleagues and family that donated to help us meet our fundraising goal and enabled us to participate.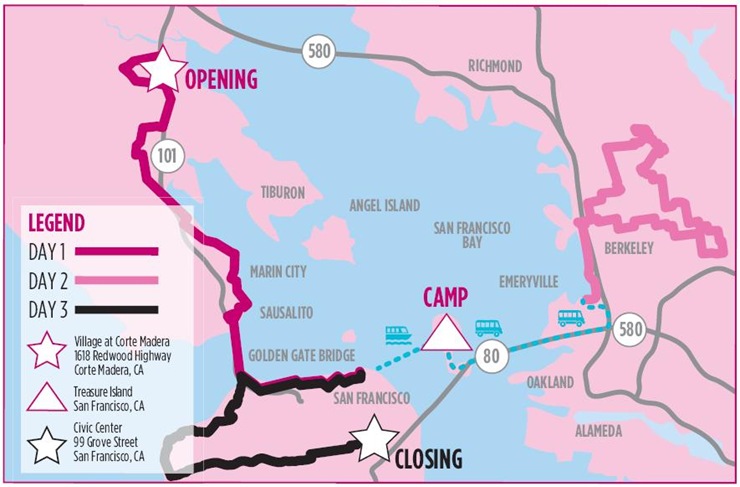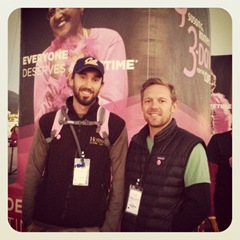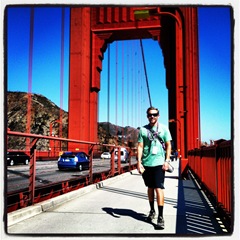 Day one started in Corte Madera, bright and early on Friday for the opening ceremony at 6:00AM.  It was a quite a moving beginning to the event, warm up stretches were followed by some heart-wrenching stories from breast cancer survivors, plenty of tears in the crowd.  We quickly noticed that we were amongst the only 20 or so other males participating in the close to thousand-strong crowd, but never felt like the odd ones out, it was a great atmosphere and the opening ceremony was buzzing with excitement and anticipation as things got underway.  Our route on day one took us through Corte Madera, downtown Larkspur, along the Mill Valley Bike Path and through Sausalito before we stopped at Fort Baker for lunch, tucked below the Golden Gate Bridge.  The weather was absolutely superb, I can't remember too many occasions that I've walked across the Golden Gate to have such beautiful weather and no wind!  We motored along Crissy Field, through the Marina and culminated the first day at Fisherman's Wharf at around 12:30PM, roughly five-and-a-half hours after we set off from Corte Madera.  We took the 1:05PM ferry back to Tiburon and made a necessary stop at Sam's Anchor Café in downtown Tiburon for a few beers to wind things up on day one.  Boy oh boy did those beers taste good after five-and-a-half hours and almost 20 miles of walking!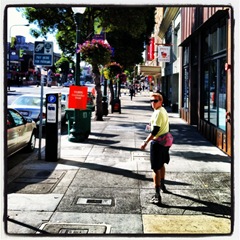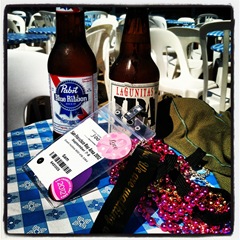 Day two had us in Emeryville walking at 7:00AM, our necks laden with Mardi Gras beads from the day before and our credentials partially covered in stickers from all the previous day's cheer stations/  We were looking quite the part, although we definitely couldn't compete with some of the creative and colorful – mainly pink – costumes being sported by some of the other walkers.  Day two took us through some beautiful neighborhoods in North Berkeley, definitely more elevation gain than day one, we were tearing off our layers as we worked our way up toward the Lake Anza section of Tilden Regional Park mid-morning.  We wound through downtown Berkeley past many of my favorite haunts from when I was a student at UC Berkeley, the timing of our walk made all the more enjoyable by the fact that a Cal football game was due to kickoff an hour or so after we made our way across campus.  After skirting the football stadium we headed south into the ritzy neighborhoods of Claremont and Rockridge, some absolutely beautiful houses on expansive tree-lined streets with a generous array of quaint local eateries.  I think I'm going to have to take Lisa and Lilia back to the area to sample some of the local fare…  The last few miles were a cruisey walk downhill to the University Avenue footbridge over the freeway and back to our starting point in Emeryville.  It's always difficult to make a trip to Berkeley without a stop at Vik's Chaat so we wound up day two with a well-earned lunch at my favorite Bay Area Indian restaurant.  Our feet were definitely getting tired after almost 40 miles but we were both surprised at how well they were holding up: no blisters, just some achy legs in need of a good rest.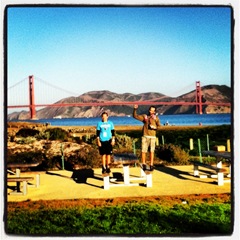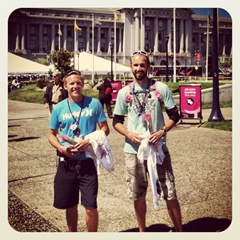 The final day had us back in the city for a tour along the cliffs of the Presidio and then back through Golden Gate Park.  Even after a solid  night's rest we were both feeling a little achy as we headed off from the Marina early on Sunday morning, for me it was the bones on the tops of my feet and Kevin had some sore shin muscles.  The third consecutive day of brilliant weather  kept our minds off our bodies, however.  One of my colleagues from work paid us a surprise visit as we were crossing Crissy Field early on in the day, she walked with us along the cliffs of Baker Beach and most of the way through the glitzy neighborhood of Seacliff before continuing on her morning run along 25th Avenue.  Fun to have a little additional company along the way!  Lisa, Lilia and my mum Jenni also joined in at one of the cheering stations along the final day's route, they were waiting for us along with a team of high school cheerleaders just before we reached the Cliff House near Ocean Beach.  Lilia was so enamored with all the cheerleaders that she almost had a fit when Lisa put her back in the truck to leave!  From Ocean Beach we headed back toward downtown through Golden Gate Park, through Hayes Valley and eventually to the culmination of our journey at the town hall.
Such an awesome experience for both of us.  As Kevin said when we finished up yesterday: a ton of feel good fun!  Thank you again to all those people who supported us with donations and enabled us to participate in the event, three days we won't ever forget…