The McGarry Wedding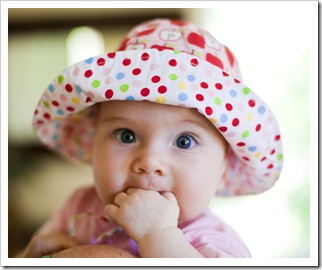 It'd been a long time since either of us had been to San Luis Obispo (SLO), where Lisa attended college.  It was great to get back down there for a long weekend for the McGarry wedding.  Lisa's parents accompanied us to help out with Lilia, we all rented a little cottage in Oceano near the famous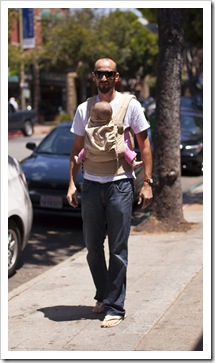 Oceano Dunes.  It was a long drive down to SLO, Lisa picked me up at the Oakland Coliseum BART around 3:30PM on Thursday after work and it took us until almost 9:00PM to get to Oceano.  Little miss was quite done with the back seat after so long in the truck, Lisa had to spend the last hour in the back seat to prevent category one meltdown.
On Friday Greg and I took a long early morning walk along the beach with Lilia in the Ergo Pack.  She has such an affinity for the sound of the crashing surf, it almost mesmerizes her…  On the way into SLO for lunch on Friday we stopped off to visit the Mussis, Justices, Cabreras and Bogue at the house they were renting in Edna Valley.  They were all feeling a little ordinary after a night out on Thursday!  We couldn't pass up a visit to Firestone's for lunch on Friday, Lisa and I split a couple of sandwiches and some fries, definitely made us both miss the days when Firestone's was only a quick car ride downtown…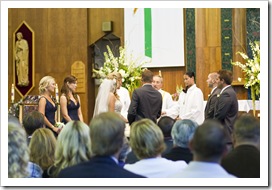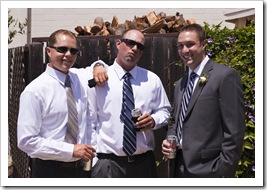 Saturday was the big event: Jim and Michele's wedding.  They ordered beautiful weather for the ceremony at their local church in Santa Maria.  We caught up with the boys lurking outside the back of the church with beers in hand before the ceremony, a good chance to get some shots of them all dressed up for the event.  Michele definitely turned some heads with her stunning vintage-style gown.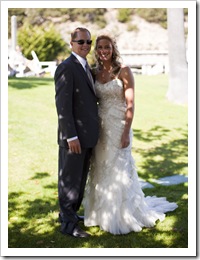 We headed north from Santa Maria after the wedding for the reception at the seaside retreat of Avila Beach.  A lot of the Cal Poly attendees had had functions during college at the Avila Beach Golf Resort where the reception was held, I'd never been before but it sure was a picturesque location.  The marquee was set on the edge of a lagoon with the Avila pier and beach in the distance, a fantastic spot for the occasion.  It was a great night had by all: the wine, beer and cocktails were flowing freely, speeches were very touching (especially the groom's), music was great and dance moves equally memorable (especially Connie's).  And such a great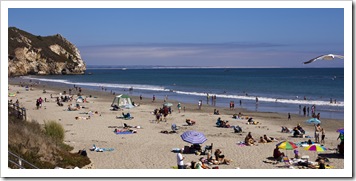 idea to provide golf carts for everyone to tour the picturesque grounds throughout the evening.  We partied on at Mr. Rick's after the reception was over, definitely memorable to see Jarrid get slapped by a random girl after stepping over the line with something he said.  We had so much fun, thanks for everything Jim and Michele!
On the way home on Sunday we stopped off in Paso Robles to grab lunch with Gina.  Gina used to work with Lisa at Stonestreet and also spent some time traveling with us on a couple of occasions during Our Walkabout.  Now that she lives on the central coast we don't see her often so it was great for her to be able to meet Lilia and for the three of us adults to catch up.
A really memorable weekend catching up with so many friends and being there for Jim and Michele's wedding. A big thanks to the grandparents for accompanying us to take care of Junior (sorry I didn't snap any photos of you guys!).