Six Months = Time For Swimming Lessons!
The Mill Valley Community Center has swimming lessons for children six months and older.  So this morning – even though Lilia's still a few days shy of officially being six months old – we enjoyed the first of seven swimming lessons at the local pool.  Lilia's no stranger to water after a few trips to the cabin and plenty of time in Lakemont Pines lake.  The addition of other children and all the commotion of a public pool was more than okay by Lilia.  Our 30 minute lesson involved plenty of songs and a lot of activity, no submersion yet but the ultimate goal of the seven week course is to get the little ones comfortable with submersing their heads.  It was a lot of fun for me too, she really is a water baby through and through!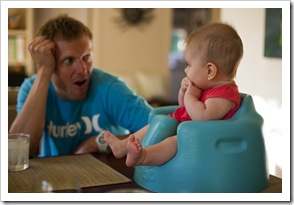 Lilia had her first tooth push through the other day, a little white piece of enamel poking through her lower gum.  A tooth along with her being able to sit by herself quite comfortably these days are quite the milestones at six months.  Her little tooth is seriously sharp, no more soft gums sucking away on our wrists and knuckles!  She's definitely in a bit of pain, her sleep's become quite erratic and she produces enough saliva for two or three babies at the moment.  Lisa found some gel to rub on her gums which is helping a little…  A few more photos here from random visits from friends over the past few months.  Boy time flies!