Fourth of July Week at the Cabin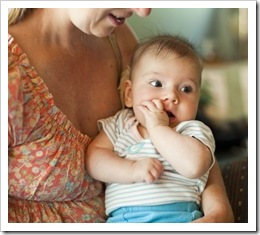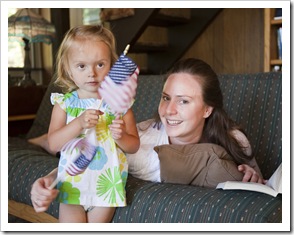 My cousin Margot joined us for a couple of weeks recently, last time we saw her she was hosting us in her home town of Darwin and adventuring with us in Litchfield National Park during our trip around Australia.  I took a week off work and we managed to get the Bordessas away from the dairy for the long weekend and a relaxing trip to the cabin in Arnold.  We couldn't have asked for better weather, it reached 90°F (32°C) almost every day and the lake in front of the cabin had finally warmed up enough for plenty of swimming after a year of record snowfall.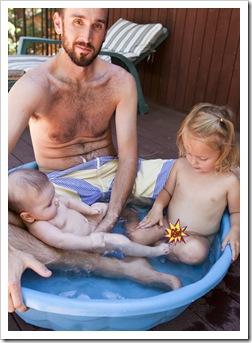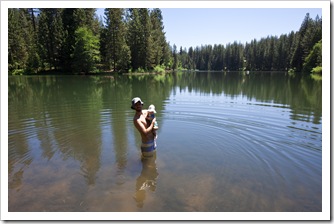 Lilia took her first swim – although the lake was still a little cold for her liking, so it was more like a wade on Dad's hip – and fell in love with the kiddy pool that Grandma Carol suggested we put on the deck.  I'd fill it up each morning and let it heat up in the sun, by mid-afternoon each day it was like a warm bath and Lilia was quite content splashing around in it for half an hour at a time.  At one point Gianna decided that Lilia and I were having way too much fun in the pool, so stripped down and jumped in there with us!  Not much room left in the kiddy pool with the three of us in there and I'm pretty sure a good percentage of the water was pee by the time we'd finished!  It sure was a hoot. 
The seven of us moseyed into Arnold on the morning of July 2 for the annual Arnold Independence Day Parade.  I swear almost everyone from Murphys to Dorrington was in town for the parade, lots of kids eagerly watching the floats as they passed by.  Not the best parade us adults had seen – don't think we'll go back next year – but it was nice for the Bordessas and Margot to take a look at downtown Arnold.
I took Jarrid fishing in San Antonio Creek one morning, I pulled in a handful of Brown and Rainbow Trout and Jarrid had a few bites, unfortunately nothing big enough to take home.  Jarrid did come home minus one shoe, forever lost in San Antonio Creek!  At the beginning of our week in the mountains the Stanislaus River was still at twice its 2009 winter peak due to the record snowfall this season, still way too big to fish.  A few days into our stay the river started dropping and by the end of our week it was down to its regular spring level, perfect for trying to pull in a few mountain swimmers.  I tried one morning with a fly and managed to only land a few small fry, but the next morning with a spinner it was almost unfair on the fish, I think I landed one with almost every cast.  I took the largest one home for the girls for lunch, deciding to leave some of the borderline German Browns for next year when they're a little bigger…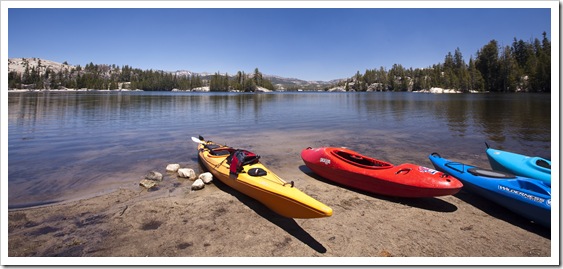 The Bordessas left us on Sunday afternoon, Jacque and Jarrid unfortunately had to get back to work.  With kayaks strapped into the back of the Tacoma we ventured up to Utica Reservoir on Independence Day, figuring a trip to the cabin wouldn't be complete for Margot without a trip to the highland lakes.  It was a magic day up there, a little cooler than the cabin with a few extra thousand feet of elevation, we all enjoyed a paddle while Lisa and I took turns hanging out with Junior on the shore.  As was the case for the whole week at the cabin, Lilia was a champ during our trip to Utica, taking a few naps along the way and quite content watching the light through the pine and fir branches while she lay on the shore.  Utica really is a beautiful spot, when Lilia's a little older we'll have to take the kayaks and camp one night somewhere along the shore…  Amazing to see so much snow still on the peaks up there during July, there was even some snow in the shady spots in the forest along the shore of Utica.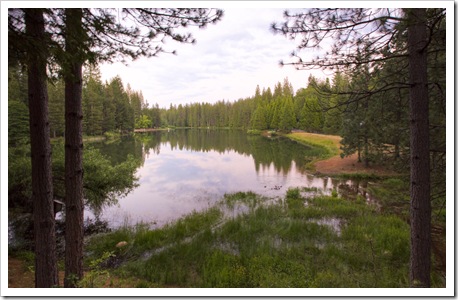 Grandma Carol and Grandpa Greg joined us for our last few days at the cabin, needing a little Lilia time before we headed back to civilization.  Unfortunately for them, Lilia seems to be entering a phase where she's quite perturbed by anyone holding her except for Mum and Dad (and cousin Margot now that she's been with us for a couple of weeks).  So Grandma and Grandpa had to be content with watching Lilia kick around on her lounge chair and splash about in the pool with me, for now it seems the days are gone when she was content sleeping on Grandpa's shoulder…
We finished up the week with a surprise birthday cake – it was actually homemade birthday ice-cream – for me a week before the actual day.  Carol and Greg: you can make me chocolate malted ice-cream any time!