"Good To Great" Index Not So Great…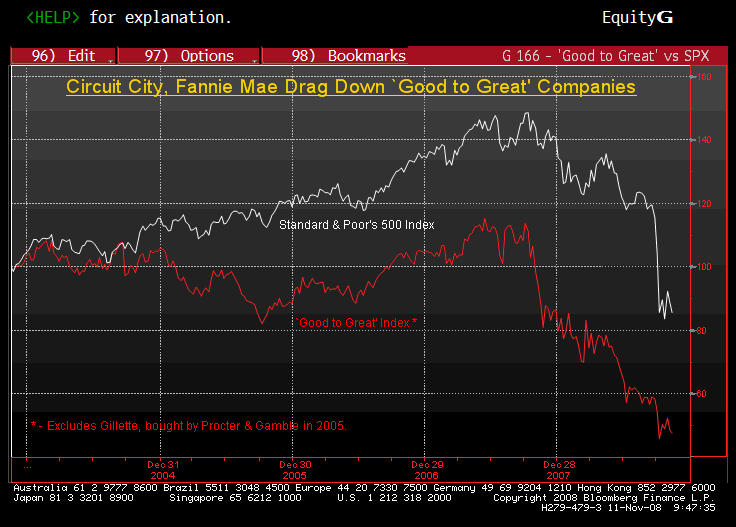 Circuit City Stores and Fannie Mae show that companies singled out as great don't necessarily make worthwhile investments.  The companies were among 11 featured seven years ago in "Good to Great: Why Some Companies Make the Leap, and Others Don't," a best-selling management book written by Jim Collins.  Circuit City filed for bankruptcy and Fannie Mae, a ward of the federal government, reported a record quarterly loss yesterday.
As the chart here shows, their reversals of fortune caused the group's shares to decline more than the Standard and Poor's 500 Index.  The chart tracks an index of all but one of the companies cited in the book during the past five years, the longest time period available using Bloomberg calculations.  Gillette is left out because it was bought by Procter and Gamble in 2005.  Each company is weighted by market value. Four of them – Abbott Laboratories, Altria Group, Kimberly-Clark and Pitney Bowes – were adjusted for spinoffs.
"Good to Great," published in October 2001, was designed to answer this question: "Can a good company become great, and if so how?" Collins picked the 11 companies after five years of research.
Nucor has been the group's leader in the stock market, and its share price has more than tripled since the book's release.  Kroger and Wells Fargo also advanced during the period, as did Abbott and Altria.  Gillette almost doubled before being acquired.  Walgreen, the worst-performing stock other than Circuit City and Fannie Mae, rounded out the book's lineup.