Volkswagen Takes Off!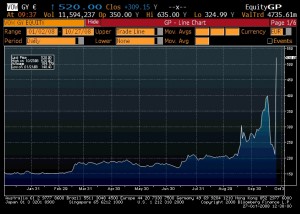 Finally, something that's up!  Volkswagen almost tripled its market capitalization today, closing around 218 on Friday and reaching an intra-day high today above 625!  To put that in perspective that's equivalent to finishing last week with a company the size of Citigroup and hitting a point this morning where the car maker was bigger than GE.  Amazing.  If the stock was listed in the US (it's listed in Germany) it'd be the secon largest stock in the S&P 500.  Talk is that Volswagen was one of the biggest short positions in European hedge funds' portfolios; Porsche announced today that it would aim to take a 75% stake in Volkswagen by 2009.  Porsche has raised its current stake in Volkswagen to 42.6% of the company and holds options to purchase another 31.5%.  I've read that Porsche made more money last year from trading options (primarily on Volkswagen stock) than they did making cars! 
Price action from the beginning of the year (above right), with the two-day and today's intra-day pricing below.