Google For $0.01?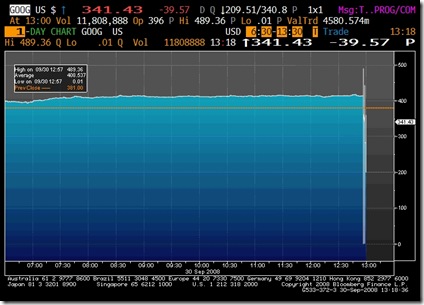 When you look at the order books of listed stocks you'll often see phantom bids at $0.01 and offers up at extraordinary levels like $1,000,000.00.  The purpose of these extreme limits is to catch anyone who happens to place a market order at just the right time (or wrong time depending on which side of the transaction you find yourself) when the order book is empty or has just been swept.  I've never, however, seen it happen to a mainstream listed name.  Well, that was before today!
A number of seconds before the US markets closed today Google (GOOG) and Rohm and Haas Company (ROH) experienced extreme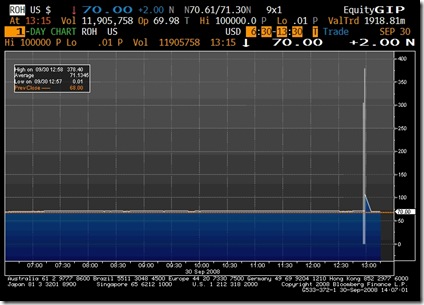 price swings; price swings huge enough to fill those phantom orders I was just discussing.  Google had its book swept such that some poor soul sold the stock at $0.01 (and some lucky soul bought it at $0.01) while Rohm traded all the way up to $100,000.00.  Rohm was pretty quick, it only printed up at the $100,000.00 level a couple of times, although it did trade at a number of multiples of its fair price for an additional few prints (see the individual quote recaps below).  Google, however, was a little more interesting: it traded down at $0.01 and $0.02 a number of times before resuming for hundreds of prints around the $200.00 mark (its current 'fair' value is around $410).
I'd imagine there were quite a few very happy market participants today who thought they'd bought Google at $0.01 and $0.02, or even in the $200.00 range; as well as a number of ecstatic sellers of Rohm and Haas who walked away with sales at $100,000.00.  However, the exchange rules all, and after the markets had closed the NYSE (for ROH) and NASDAQ (for GOOG) announced that they'd be canceling all the 'erroneous' prints for both names.  For Google the exchange had to even alter the closing price, GOOG initially closed at a $341 handle but was revised to its fair price above $400 after the exchange canceled all trades below $400 for the day.  All the trades below $400 for GOOG and above the $100 level for ROH make me wonder: what happens to all those off-exchange trades in dark pools and crossing networks that are outside the official control of the NASDAQ and NYSE?  Buyer (seller) beware when using ECNs and dark, I guess.  And buyer [seller] beware when placing market orders, too, even if the name is heavily traded and usually very liquid!  Just another chapter to the September madness…