Mechanical Miracles
Thanks to Pat Pisapia for the original PowerPoint submission containing all these.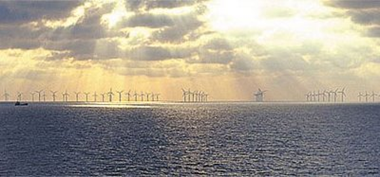 Wind Farm in the Middle of the Ocean
20 km from the coast of Denmark, you will find "Horns Rev", the biggest wind farm in the world. 80 turbines 110 meters tall each, capable of producing 160 MW.
The fins of each turbine are 30 meters long.
Arctic Highway That Exists Only Part of the Time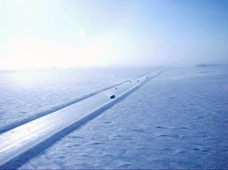 The highway between Tibbitt and Contwoyto in Canada.  It is the most dangerous road in the world, over 500km long and consist of 85% frozen lakes.  The ice can break at any time.
This road can only operate during the coldest months of the year.  When the ice becomes strong enough every year the road is made.
Below is a series of truck on the ice, each weighing 70 τons.
Colossus of the Sea
The largest ship in the world.  Used for transporting everything from oil rigs, to an entire refinery, and the largest of military radars. 
To transport ships it simply sinks underwater, the ship parks on top, and then it all rises up for the trip.