Five Days At The Cabin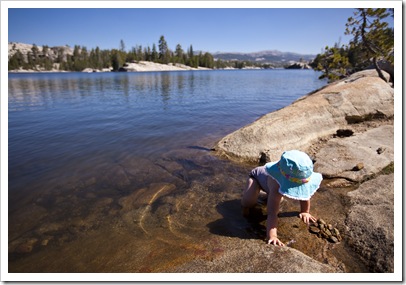 We're just winding up a fantastic stint of five days up here at the cabin in Arnold, couldn't have asked for more ideal weather.  We had a great time with Graham and Nikki, who joined us for a couple of nights over the weekend.  Both Graham and Nikki are keen kayakers so were looking forward to paddling on some of the highland lakes up the road from the cabin.  After a solid campfire the night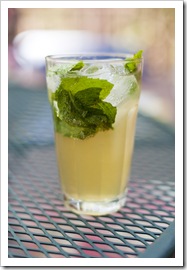 before we headed out early Saturday morning bound for Utica Reservoir.  It was a beautiful day up there and – apart from some very interesting specimens of Californian society drinking and causing a general ruckus on the banks when we arrived – we all had made the most of the beautiful mountain surrounds with a paddle around the lake for the girls and Graham, and plenty of swimming for Lilia and me on the banks.  We packed a lunch and enjoyed it on our own little private granite outcropping, making it home in time for Tinkerbelle's afternoon nap.  Graham had a GoPro attached to his kayak, the video below shows his adventures around a portion of Utica as well as some sprint practice sprints back and forth along the lake in front of the cabin.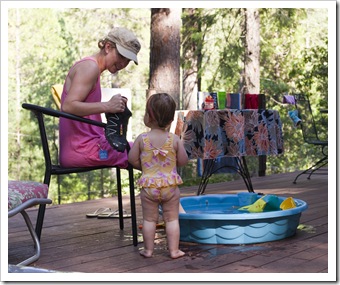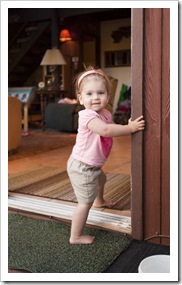 Lisa had mojitos on the brain so we all wandered over to the beach after Lilia's afternoon nap on Saturday with a pitcher full of mojitos to enjoy in the sun.  Such a refreshing (and dangerous!) drink for a hot day…  Over the course of the long weekend Lilia stayed in the water many times until her lips were blue, I swear that girl is part fish.  Lisa and I both experienced one of Graham's skis in the lake in front of the cabin, amazing how much effort it was to balance the boat compared to the über-stable sit-on-top kayaks that we're used to.  Lisa took to it like a fish to water, I had a bit more trouble and got dunked once.  Our abdominals were feeling it after only a few laps of balancing, but definitely fun to give it a go!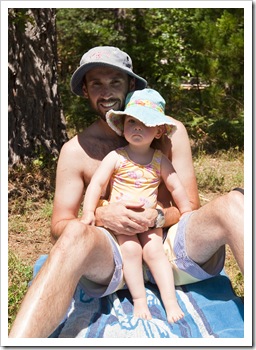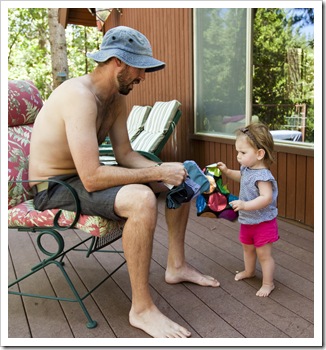 It was my birthday yesterday and what better way to spend it than with my two ladies.  Lisa sneakily concealed the stack of presents pictured here, a cache of gifts and cards from California and Australia.  Lilia enjoyed her role as present delivery girl as well as official present un-wrapper, I think for Christmas we'll have to wrap up a few balls of wrapping paper because if yesterday is anything to go by I have a feeling she'll get more enjoyment out of unwrapping presents than what's inside.  Thanks for joining us Graham and Nikki, hopefully we can have a repeat next summer!