Tennessee Valley Beach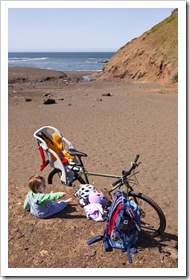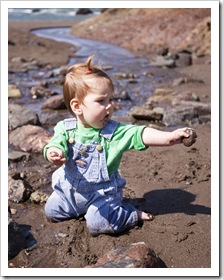 While Lisa was on the plane back from Chicago this morning Lilia and I took a trip down to Tennessee Valley Beach.  The Surly got its first real off-road test with Lilia on the back, I switched out my commuting tires for a set of Kenda knobbies and we cruised the trail down Tennessee Valley to the beach.  I wasn't sure how Lilia would react to the dirt trail after all her other bike outings being on the blacktop, but with the big tires absorbing almost all the chatter from the dirt and gravel she was quite happy back there in her seat (phew!).  It was a beautiful day down there this morning, a little windy but that didn't bother either of us too much, and so nice to have the place all to ourselves.  Had to remind myself we were only 20 minutes from downtown San Francisco! 
We slowly edged toward the ocean, I was watching Lilia
calculating her moves to make it to the creek and then checking on my proximity to her.  She got the best of me when I was taking one of the photos below, making a beeline for the water and plopping into it face first fully clothed (photo to the left).  I had a feeling this might happen so had a spare change of clothes for her, but she enjoyed almost half an hour of naked frolicking in the ice cold water before getting dressed again and hopping back on the bike.  A great spot out there for warm days like this, I have a feeing we'll be heading down Tennessee Valley on the bike quite a few times this summer!