Goodbye Erna Valtenbergs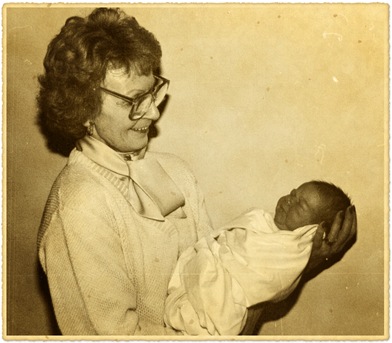 My dad called me a few days ago to tell me that my grandmother had passed away, she was 90 years old.  She spent the last few years battling emphysema, an debilitating and energy-sapping ailment that necessitated she spend the last year or so in an aged care facility.  She was in and out of hospital quite a number of times during the final years of her life, each time she was admitted my dad would call me and wonder whether she'd make it through the week.  And each time she'd find a new burst of energy, amazing doctors and nurses to return home.  This last time when her breathing became troubled there were no more hospitals, she passed away peacefully in her bed at Acacia Court.
Erna arrived in Australia aboard the S.S. Oxfordshire on May 25, 1949 with my grandfather, my father and my aunt.  My grandparents and father were displaced from Latvia during the Russian invasion in 1940, Erna trudged across Europe with my father in tow as my grandfather fought in the war as part of the Latvian Legion.  Separated in war-torn Germany my grandfather located Erna and my father with nothing more than a photograph shown to other wanderers in the camps.  My aunt was born in a displaced person's camp in Berchtesgaden, Germany, after which the Valtenbergs made their way across Italy to Naples and aboard the S.S. Oxfordshire bound for Adelaide, South Australia.  It was a tough life in the Lucky Country, my grandfather worked multiple jobs for meager pay  for many years to try to get ahead while Erna raised their two children and also worked herself.  As far as I know Erna was the last of the Getners (her maiden name) family.  Her immediate family and many of her relations have either either passed due to old age or were transported to Siberia during the war, never to return.  My grandparents' story is something you'd expect to read in a novel, hearing it firsthand from my grandfather made me realize just how lucky I have been with my upbringing.
When I was a little fella the distinction between "grandma" and "mummy" was a little too difficult for me, as was enunciating the "gr" at the beginning of "grandma".  So from an early age Erna was "Lummy" to me, a name I called her into my adulthood.  As the only grandchild on my father's side of the family I was spoiled absolutely rotten by my grandparents when I was a kid.  I can still remember Lummy walking down the road to get me fish and chips for lunch on the rare occasion I'd be sick from school and wind up spending the day with my grandparents.  I'd always look forward to the Black Forest cakes she labored over for special occasions like birthdays and Christmas, better than anything any baker could conjure.
I am thankful that we were able to make a trip back to Adelaide in November to give Lummy a chance to meet her one and only great grandchild.  We took Lilia in to see her a few times on our quick stint in Australia late last year.  One of our visits happened to be at lunchtime, Lisa and I both smiled when we realized that Lummy and Lilia, at 89 and nine months old respectively, were eating the same food for their meals.  Such is the circle of life…  She will greatly be missed by her husband, son, daughter, and of course by me.