Adelaide, Minlaton and Sydney
We ventured Down Under for a couple of weeks for the first time in over two years for me and three years for my better half.  Our trip over was a bit of an ordeal: somehow I got us booked on the Sydney to Adelaide leg of a Sydney to Singapore flight, so for the first time in my life we cleared customs in Adelaide and not Sydney.  Unfortunately our bags were checked to Sydney, so we arrived in Adelaide without any of our bags, wine, or gifts for Mother's Day (which was the day after we arrived).  And our plane was delayed for three and a half hours, so I missed out on half of the bux show I had aimed to attend.  Ah well, the latter half of the night was still a lot of fun…  Regardless, it was great to spend Mother's Day with my mum and grandma, don't get to do that very often these days.  Mum organized quite a feast up in Stirling at my cousin Becca's new place, still tasting those lamb chops!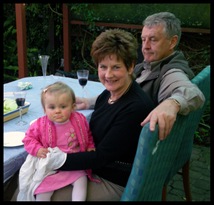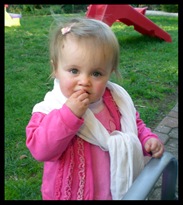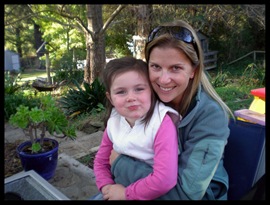 Layla, Megan and Andrew at Mother's Day lunch (left), Layla the Polish woman (middle), and Isabella enjoys a knee (right)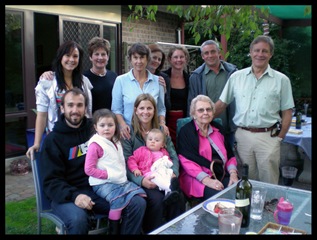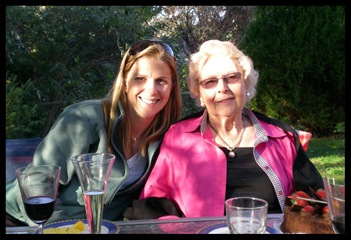 The mothers with their children and grandchildren and great-grandchildren (left) and grandma Rosabelle (right)
We didn't realize it until we returned home, but we don't have a single photo of Sam, our host for our time in Adelaide, or his son Jordan!  Terrible form on our part…  However, we do have a shot of Grace from our night at Mark and Mel Rudloff's beautiful new house in Goodwood.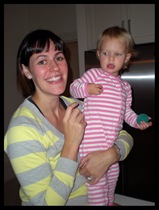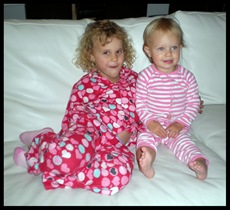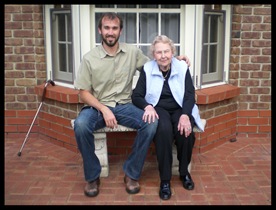 Mel and Emily (left), Grace and Emily (middle), and me with my grandma before taking he out to lunch (right)
Dad organized a great day of wine tasting in McLaren Vale during our first week in Adelaide.  We had the chance to visit one of Kendall-Jackson's properties in the Vale as well as enjoy a fantastic lunch at Woodstock Winery.  TB also toured us around Chapel Hill Winery and Samuel's Gorge, the former being his employer for the past six months or so.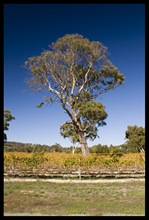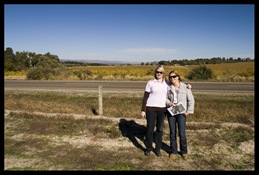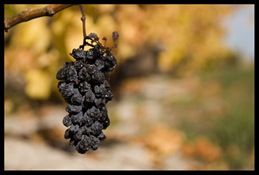 Gum trees in the vines at Yangarra Estates (left), Shelley and our family winemaker (middle), and Grenache raisins (right)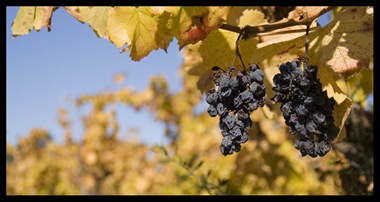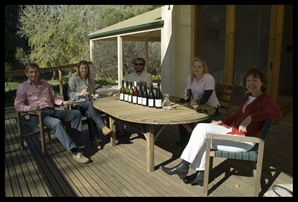 Grenache raisins at Yangarra Estates (left), and enjoying a Yangarra Estates flight (right)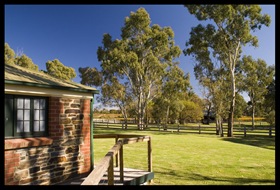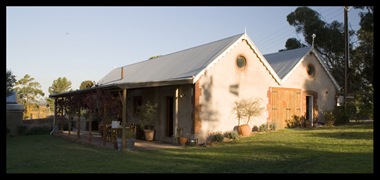 The Yangarra Estates homestead (left), and Samuel's Gorge Winery (right)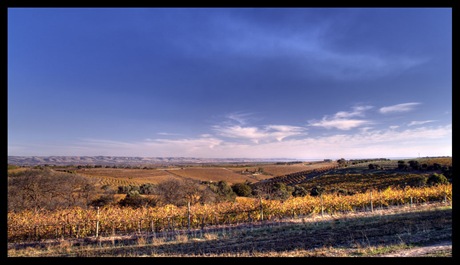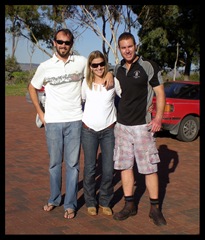 The sun setting over the ocean and McLaren Vale vineyards from Samuel's Gorge Winery (left), and Todd sports some serious fashion (right)
Couldn't go to Adelaide without a trip into Central Market.  We thought Isabella and Layla (my cousin's daughters) might enjoy the trip too, so took them along with us for the day…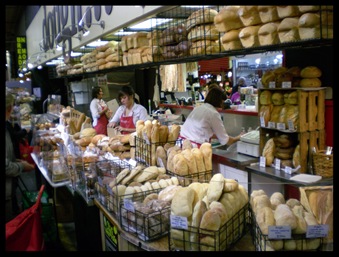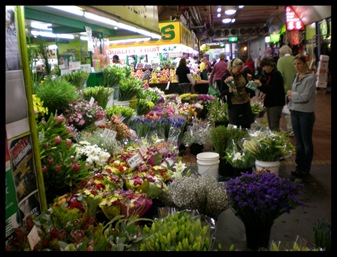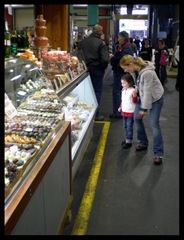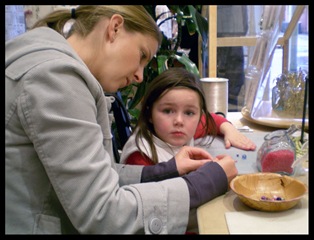 Isabella gets a cheese course (left), and makes a birthday present for mum (right)
Two weeks is never long enough, so Dad organized a bit of a get together to coincide with Todd's birthday on our first Friday night in Adelaide to catch up with a few people we didn't want to miss.  Estia's food never disappoints, I think most people left the restaurant with their belts loosened.  And I know that Todd, after a couple of nasty birthday shots and four or five more ouzos, was definitely feeling the worse for wear at the end of the night.  Dad brought four cases of wine with him; there was hardly anything left, not bad work for 22 or so people!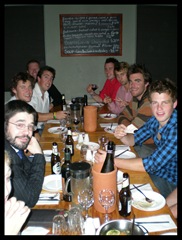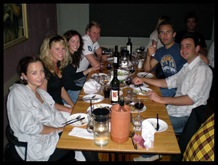 An assortment of happy couples with Immanuel College connections (left), the Blythe Street Massive and assorted VC crew (middle), and a different angle on the Immanuel folk (right)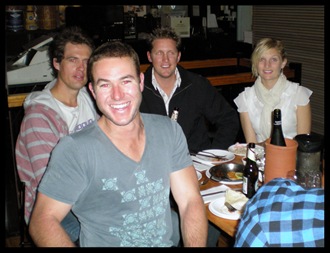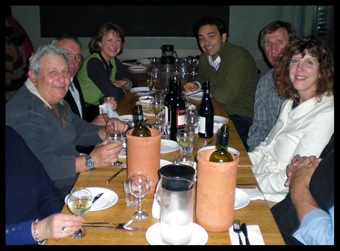 Todd [before the shots], Chris, Erin and Owen (left)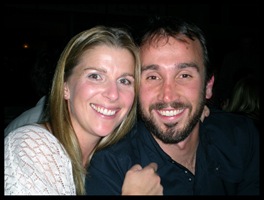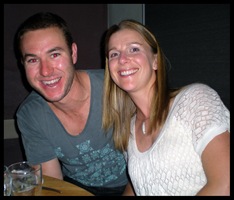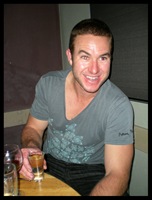 Todd working on one of his many shots for the night (right)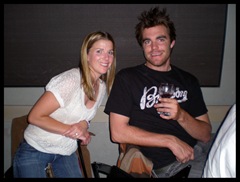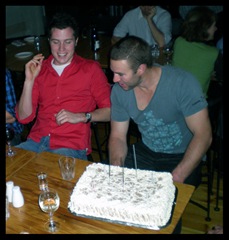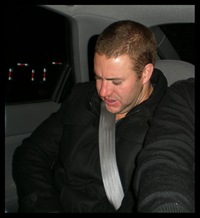 Big Mick Craven (left), Todd gets stuck in his cake and some ouzo (middle), and Todd battling at the end of the night (right)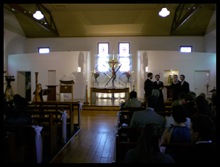 We were able to organize our visit to coincide with ET and Sally's wedding, which was held on May 17th at beautiful Saint Mary's Church in North Adelaide.  We had a bit of time to spare after the wedding, which we wiled away at a favorite haunt, the Queen's Head, with the reception following at Saint Mark's College (familiar ground to us all).  Sally looked angelic in her gown and the night finished up with some very well-prepared, moving speeches.  The night also finished up with a little too much alcohol, some baked goods from the O'Connell Street Bakery and an AB from Wogo's!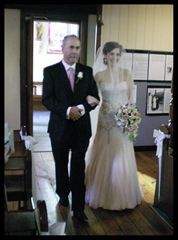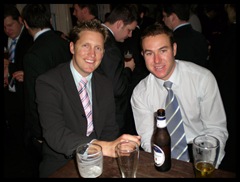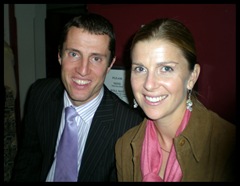 Sally gets walked down the aisle (left), representation from Da Hill (middle), and Jazz with a nice looking lady (right)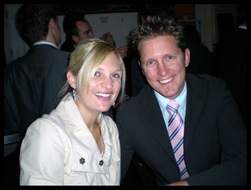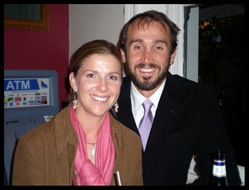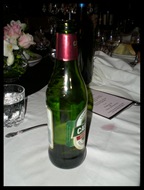 Owen and Erin at the Queen's Head (left), and one of Tariq's beers (right)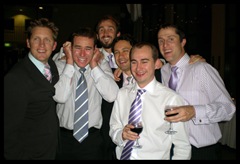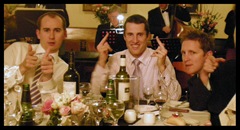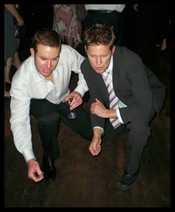 Todd has some problems with his ears (left) and the boys from Da Hill remember the good old days at Wilcannia (right)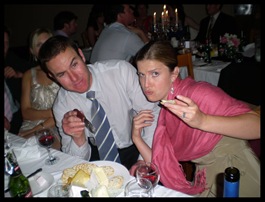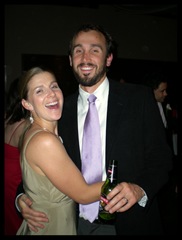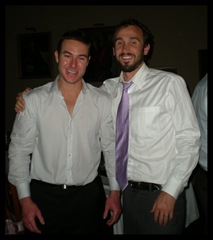 Very happy with the arrival of the cheese plate (left), and Todd and me (right)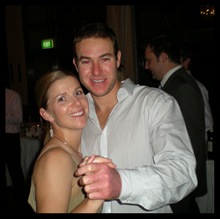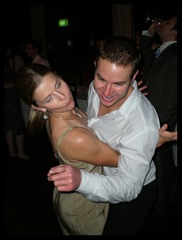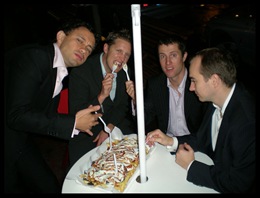 Todd does some serenading (left and middle), and the boys quicken the pace of heart disease with an AB to finish the night (right)
After wowing us with his BBQ skills for lunch, Chris was kind enough to take us into his work (he's a keeper at the Adelaide Zoo) for an up-close-and-personal meeting with some of the animals he works with.  Don't get too many chances to hand feed a tiger!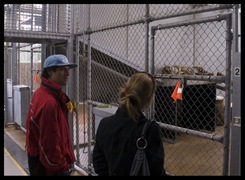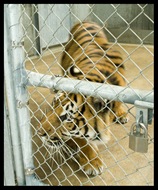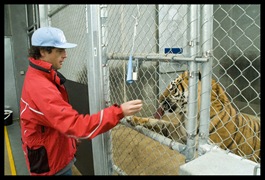 Chris gives us the royal tour of the tiger holding pens and demonstrates how to hand feed them chunks of meat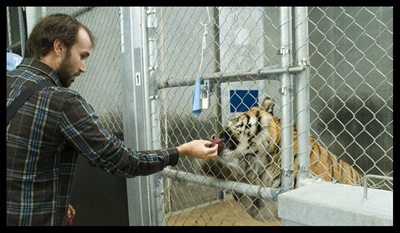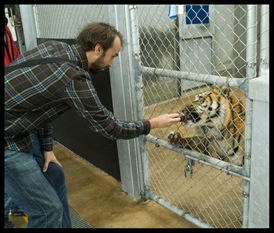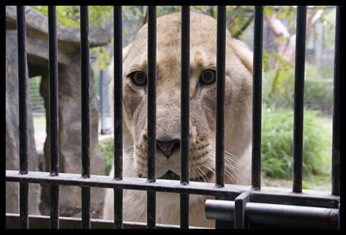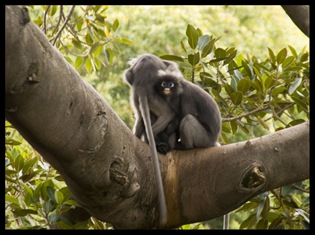 Out the back of the lion enclosures with one of the female twins (left)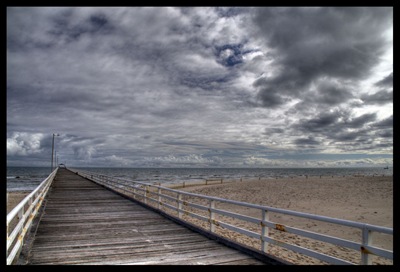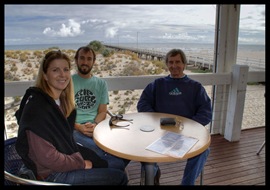 Cloudscape over the Grange jetty (left), and lunch at the Grange Kiosk with Dad (right)
While there were quite a few kids around Adelaide that we'd never met before, we really wanted to get over to Yorke Peninsula and meet the Browns' kids that have popped up since we were last in Adelaide.  Fortunately Tom and Marissa Brown were able to take a couple of days off of work, so were able to make the trip over to Minlaton as well.
I spent a lot of time on the Brown's farm as a little tacker, so always enjoy going back there, even if the visit is only quick (like this time).  Ed and Rebecca are renovating one of the beautiful, old stone homesteads on the property, what they've done so far looks fantastic.  16 foot ceilings, wrap-around verandahs, I love the old Aussie farmhouses.  Max, Ed and Becca's oldest, is a real character, it was great to meet the four kids, and Becca put on a real show with a true blue Aussie leg of lamb for us.  Sticky date pudding for dessert, we were in heaven at the dinner table!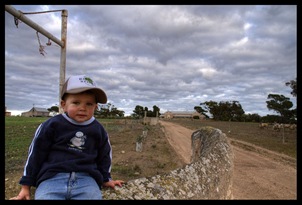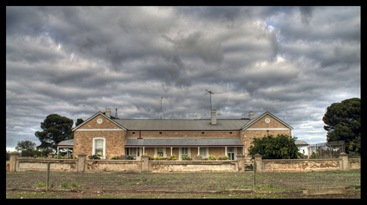 Max at the beginning of the driveway (left), and Navan Homestead [Ed and Becca's house] (right)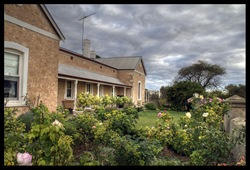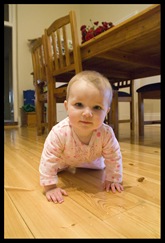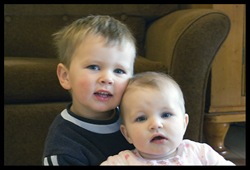 Navan Homestead and Becca's beautiful gardens (left), Eleanor cruises the kitchen (middle), and brother and sister (right)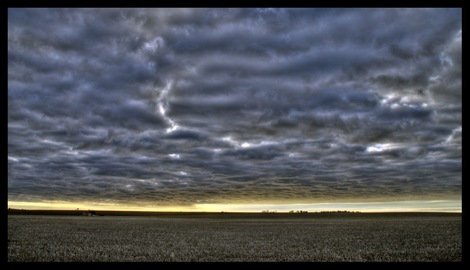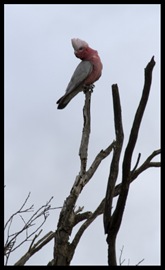 Sunrise over the fields at Navan Homestead (left), and a Galah watches over the farm (right)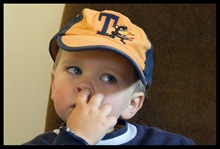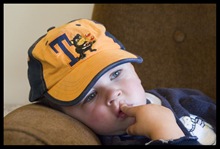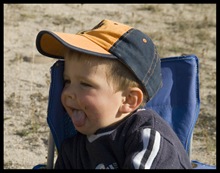 A shot to keep for Max's 21st birthday (left), and trying to gulp a fly in the scrub at Hardwicke Bay (right)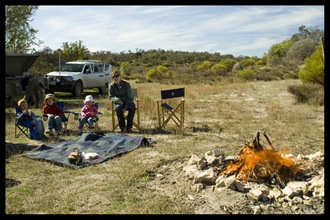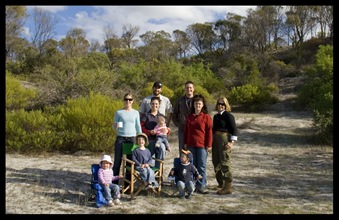 Max, Isaac and Emma by the fire at Hardwicke Bay (left), and the Valtenbergs and Brown clans (right)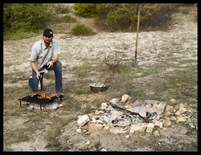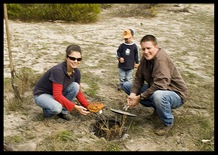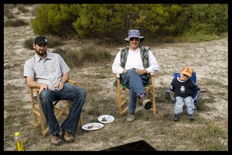 Me tending lunch over an open flame (left), Becca, Tom and Max tend to a scrumptious bush damper (middle), and I chat with Ian and Max (right)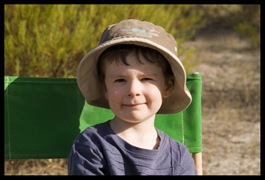 Only one night on Yorke Peninsula and we were back in Adelaide.  Dad organized a dinner for us at one of his favorite restaurants, Enzo's, as a bit of a send off.  Fantastic food, and great to catch up with Bev, who arrived in town on our last day from his travels for work.  If Dad tells us one more time about the special dish Enzo's have for Andrea Bocelli I think we're going to check him into the nut house.
We spent our last weekend in Sydney with the Newbys in Oyster Bay.  Also had a chance to catch up with Nick and Hannah Fisher (I don't think I'd seen Hannah since I was a teenager!).  We spent the day walking around the Sydney DBC, taking in the sights, dropped in at the famous BBQ King for a Peking duck dinner and then met the Fishers out for a few too many drinks…  Unfortunately, I overdid it a little on our night out in Sydney and came down with a fever on Sunday, spent our last day in Australia curled up on the couch feeling very ordinary.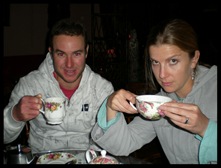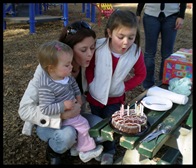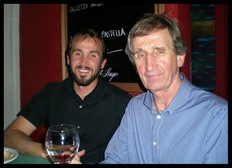 Todd looking quite sophisticated with the flower-decorated tea cup (left), Layla and Isabella blow out the candles on Mum's birthday cake (middle), and dinner at Enzo's with Dad on our last night in Adelaide (right)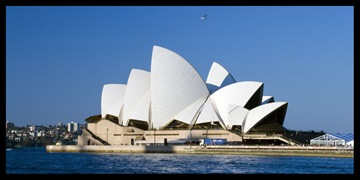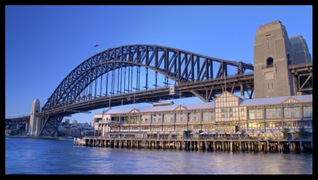 The Sydney Opera House (left), and Sydney Harbor Bridge (right)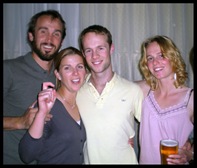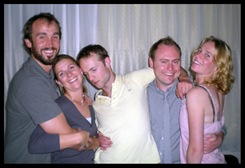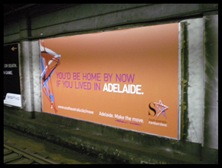 Out on the town with Nick and Hannah Fisher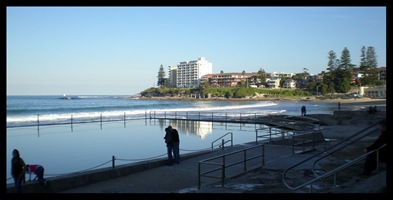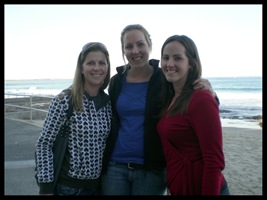 The Cronulla Strip (left), and the Newby girls (right)
Two weeks went way too fast, as it always does; and as we always do, we managed to miss some people whom we'd originally planned to catch up with.  Que, sera, sera, can't do everything, I guess.  But we had a lot of fun, especially meeting all the little ones who have popped up all over the place during the last few years.  We're now going to have to start dreaming about pies, schnitzels, Perryman's pasties and Farmer's Union Iced Coffee for another year or two…