Presidents' Day Weekend At The Cabin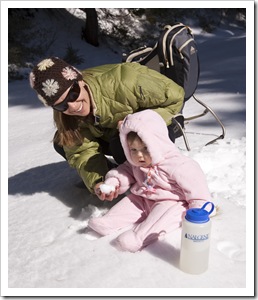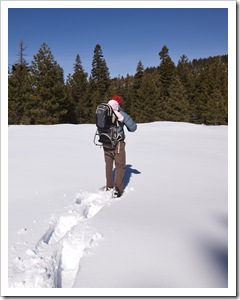 We spent the Presidents' Day long weekend up at the cabin, the original plan was for the Bordessas to accompany us but Jarrid's grandmother unfortunately fell ill and they thus had to give the cabin a miss this time around.  Although the Sierras are sorely wanting for snow we still managed to find some good coverage up by Black Springs to introduce Lilia to snow.  On Friday we shot up the highway after her morning nap and spent an hour or so snowshoeing into the Stanislaus National Forest, it was a beautiful day and Lilia seemed quite content in her little polar fleece suit in the pack.  With not a cloud in sight the sky was a brilliant deep blue, we all got rosy red cheeks from the sun reflecting off the snow.  Lilia proceeded to eat as much snow as she could get her hands on after we'd finished our hike and then enjoyed lunch on the tailgate of the truck.  We all enjoyed it so much we returned to the same spot on Sunday with Carol!
Carol joined us late on Friday, not wanting to pass up the opportunity for a whole weekend with her granddaughter.  Both Lisa and I have to pinch ourselves sometimes when we realize that Lilia's almost a year old.  She's been crawling for a couple of weeks now and is amazingly quick to move about the place on all fours, she can be across the other side of the room in the blink of an eye.  Pops John caught us on Skype to wish Lisa a happy birthday on Sunday; Lilia put on a full show for him including crawling, standing, pulling up, talking and finding her favorite duck when prompted.  Tinkerbelle is going to be walking by the time she turns one next month, I have a feeling…  We all moseyed over to the Baughman's for dinner on Saturday night, Jerry dished up enough spaghetti to feed the entire town of Arnold, a very fun evening had by all with plenty of wine to go around.  We think Lilia's getting her second batch of teeth at the moment so didn't sleep too well during our time in the mountains.  One advantage of her getting me up at 5:30AM each morning was the opportunity to snap some good shots at sunrise with her jabbering away in her pack on my chest!