The Bordessa Pig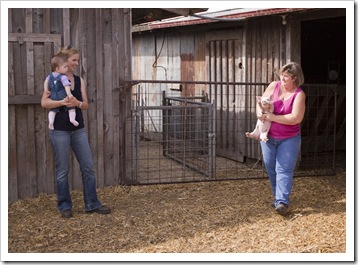 When I was a kid a pair of my parents' best friends – The Jarvises – bought a small ranch (farm) in Yankalilla, a rural town in South Australia.  As a joke my parents bought a piglet as a gift for one of their friends' children's birthdays.  I remember sitting in the back seat of our car holding the piglet in a hessian sack, and I also remember the flabbergasted look on the faces of my parents' friends when we opened the sack!  Pretty much since Gianna Bordessa was born I've been planning to give Gianna a pig for one of her birthdays.  Gianna turned three a couple of weeks ago so we figured that she's now old enough to learn the ways of the ranch firsthand. 
Earlier this year we started hunting around for a suitable piglet, Lisa got in touch with a family contact she knew from raising pigs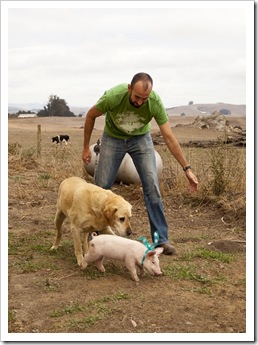 as a child and lined one up.  Sunday was the big day, we made the trek up to Windsor to collect our cute six week old piglet to give Gianna.  The Bordessas had no idea what we were planning, just that we were going to have dinner with them so we could surprise Gianna with a birthday present.  Jarrid wanted me to help him move some cows when we arrived and Gianna was asleep so we had to wait for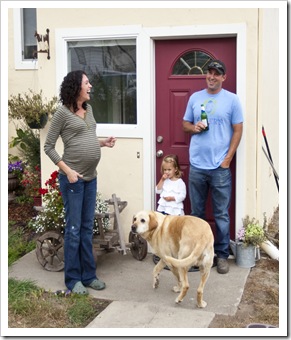 the unveiling, Lisa and I could hardly contain ourselves for the hour or so we waited while Gianna took her afternoon nap.  When the unveiling eventually occurred Jacque laughed harder than we've ever seen her laugh, one of the funniest things I've ever seen.  Jarrid was expectedly not impressed, but also couldn't help but have a chuckle too.  Yogi took an instant liking to his new ranch companion and we quickly erected a shelter for the little gilt where she's living until Jarrid can erect something more permanent.  I know Jarrid's revenge is going to be sweet once he thinks of some way to get us back, but Jacque and Gianna are stoked with their new companion and we're glad we had a hand in helping Gianna learn the ways of the ranch firsthand!