Weekend With The Bakkers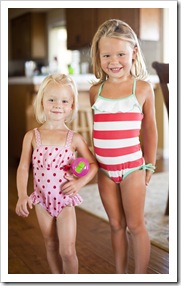 We spent last weekend down in Visalia on a long-overdue trip to visit the Bakkers.  It was my first time seeing their new house, just down the street from their previous abode on the dairy.  The new digs with a pool, horse paddocks for Brooke, a huge vegetable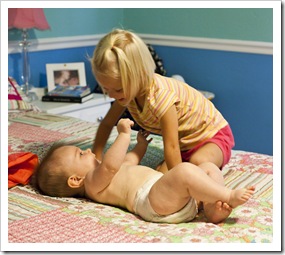 garden out back and sweeping circular driveway made for a very welcoming spot for us for the weekend.  The temperature in Tiburon doesn't usually get much above 80°F (27°C) so it was nice to get a dose of real summer temperatures down in the valley, perfect weather for spending Friday afternoon by the pool with all the kids running around.  Lilia loved having Anna Marie and Sophia to play with – Sophia especially.  Every time the Bakker kids were in sight Lilia was totally mesmerized by them.  I have a feeling little Sophia is going to be quite the handful in a few years' time!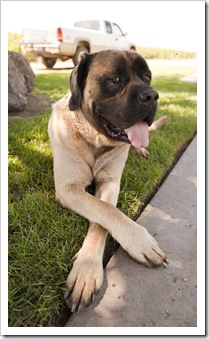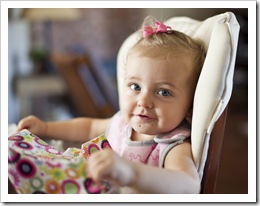 We visited the Atkins for breakfast on Saturday morning.  It was my first chance to meet their new baby Quincy, amazing to see the difference between Quincy – who is almost one – and Lilia.  Mark cooked us a mean breakfast with his signature brown sugar and chipotle bacon, but unfortunately we couldn't stay too long because Lilia was due for her morning nap. 
During our stay I ventured out onto the dairy a few times with Kevin.  I'm reading a book at the moment called Cadillac Desert which is the history of how irrigation played such a monumental role in the settlement and development of the American west.  With irrigation on the mind, I really noticed just how much of a difference irrigation and hot temperatures make to the operations of a valley dairy compared to one up north by us like the Bordessa Dairy.  Kevin has most of the fields planted with silage corn at this time of year, all of which is completely soaked in water every 10 days while it's growing.  That's an immense amount of water, the wells Kevin has on the dairy supply them with an effectively unlimited source of water so the only other thing they need for silage is plenty of California sun.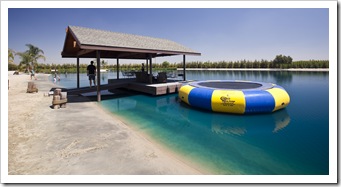 Not content to spend the day "visiting" – as the girls would put it – Kevin organized for us to spend Saturday waterskiing on one of their neighbors' private ski lakes.  We weren't quite sure what to expect as we cruised the five-or-so miles along the back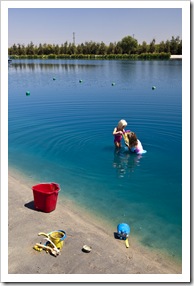 roads between the surrounding dairies but were absolutely in awe as we exited the walls of silage corn on a neighboring dairy to find a hidden waterskiing oasis.  Kevin told us that the owners of the lake had been building a new milking barn and wanted to raise it up a few feet to guard against flooding.  So they requested approval to build a "fish lake" where the hole was left by excavating the dirt to raise the barn.  The result is the unbelievable waterskiing heaven pictured here.  They put some serious thought into construction: islands at each end for turnaround, a full slalom course, rails for wakeboards, a covered deck over the water and endless water toys to keep the little ones amused.  We had an absolute blast, Lisa was in her element with a proper waterski boat to pull her and Lilia very much enjoyed a couple of swims in the bathtub-warm water.  Great idea Kevin!
An awesome weekend, thanks so much for having us Bakkers!  Lisa hasn't stopped talking about the waterski lake since we left, I have a feeling you won't need to ask her twice to make the trip down again.