Granny Jenni Visits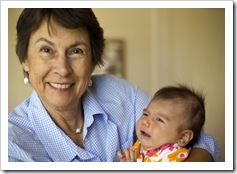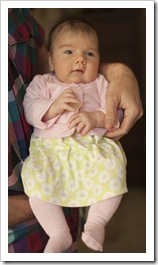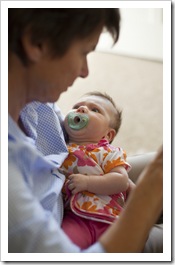 My mum was originally scheduled to come meet her first grandchild in September, but just before Lilia was born Mum decided she couldn't wait and came for a quick visit starting on May 2.  The visit started off a little rough: the cute outfit we had Lilia dressed in (pictured right) to meet Mum at the airport only lasted as far as the car before it was covered in spew!  But everything else went smoothly, Mum was a great help to have around and it was nice for Lilia to meet her other grandma.  Lilia definitely enjoyed being read to by Granny Jenni, quite intent on all the new sounds.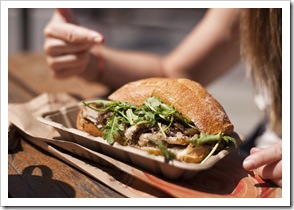 Lisa, Lilia and Granny Jenni made a trip over to meet me for lunch last Thursday.  Mum couldn't have picked better weather for her trip,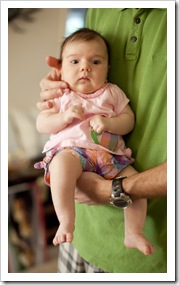 Thursday was a beautiful sunny day on the San Francisco Bay and a great opportunity for the girls to explore the Ferry Building and Thursday farmer's market.  I think Granny Jenni might come for another visit just for the vegetables from the farmer's market, we didn't stop hearing about the farmer's market lettuce for the next week!  The motivation for a Thursday trip to San Fran is the fact that it's the only day the Roli Roti van serves its famous porchetta sandwiches in front of the Ferry Building.  The porchetta sandwiches are made from rotisserie-cooked pork loin, wrapped in pork belly and skin crackling served on a fresh ciabatta with arugula (rocket) and seasoned salt.  Absolutely to die for!  Lisa will be back for another for sure and I have a feeling Grandpa Greg won't be far behind…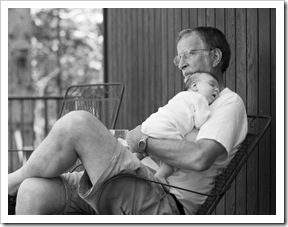 I took Friday afternoon and Monday off so we could spend a few days up at the cabin.  It was the first time we'd tried Lisa picking me up at the El Cerrito Del Norte BART station instead of battling the city traffic.  It worked well and we scooted across the valley – with a stop in Oakley for a flat of strawberries – and up into the mountains.  Greg didn't wait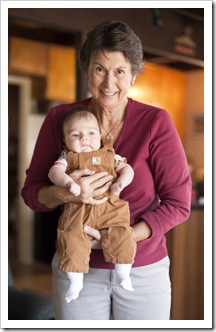 long to get Lilia in to his favorite location: sleeping on his shoulder.  We scored some beautiful weather for Friday and Saturday, taking advantage of it with a walk through the North Grove of Big Trees State Park with Laura, Jerry and Mandy.
For Mother's Day I cooked everyone a traditional Aussie breakfast on the BBQ, replete with bacon, eggs, roasted tomatoes, roasted mushrooms and grilled onions.  I took a trip down to the Stanislaus River at Hunter Dam hoping to throw a line in but this year's snowpack quickly put an end to my plans.  The river at Hunter Dam – usually a picturesque setting of granite boulders and waterfalls at this time of year – was nothing but a raging torrent of whitewater covering all the granite boulders usually visible during spring and summer.  Amazing to see the river so full, I've never seen it anywhere close to that level…  Greg cooked the girls a dinner of Alaskan salmon and we drank in style thanks to Johnny Valts, a bottle of The Stocks from Woodstock in McLaren Vale never goes astray.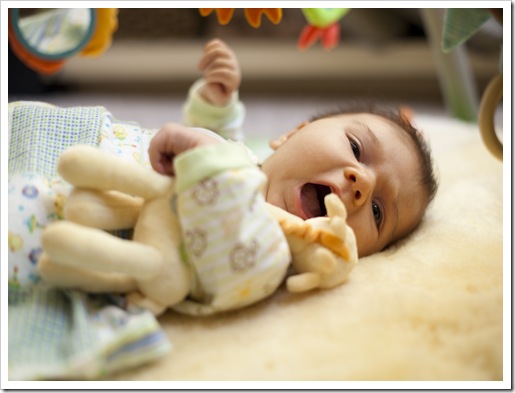 Among other things, Mandy gave Lilia the little giraffe she's hugging here to the right.  Lilia absolutely loves the thing.  The giraffe's nose has a cone shape and every chance she gets, Lilia will suck on that thing like it's going out of style.  It's really quite funny.  I snapped a short video of her gnawing away below (with a little help from Dad's hand).
Thanks for coming to visit Mum!  It was wonderful to have you with us – albeit your trip was a little short – next time you'll have to come for longer.  Thanks for all your help, Lisa loved having you for company.  Now we're just wondering when Grandpa John will grace us with his presence…