Green Gulch and Coastal View Trails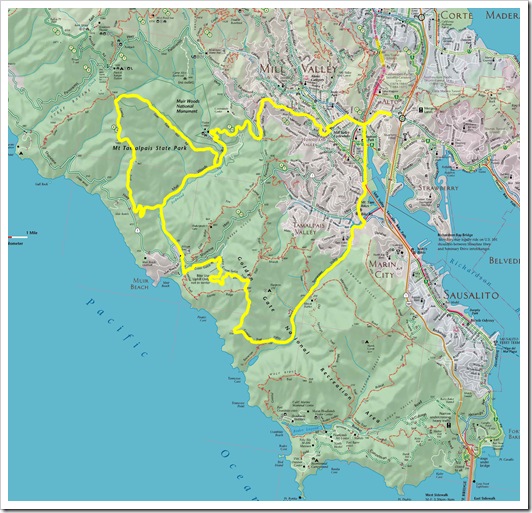 After being blocked by rain last Sunday, Kevin and I took advantage of yesterday's sunshine to undertake a marathon ride through the southern Marin Headlands and up Mount Tamalpais.  I'd ridden sections of our route before but not the whole thing, Kevin as a west Mount Tam virgin at the beginning of the day so we were both petty pumped to test some new singletracks. 
We met at Whole Foods on East Blithedale in Mill Valley and warmed up with a jaunt along the Mill Valley-Sausalito Bike Path and then into Tennessee Valley.  The 900 foot grind up Coyote Ridge had us both ready to explode, some seriously steep fire road but good to get the worst out of the way early…  We dropped down Green Gulch – a smooth, fast, flowing singletrack – to the Pelican Inn at almost sea level and then cruised along Muir Woods Road to the Deer Park Fire Trail trailhead just west of Muir Woods.  Deer Park is not a punishingly steep climb by any means, but it's a solid 2.3 mile mission that makes it's way through roughly 1200 feet of vertical.  After weathering Coyote Ridge we were pretty wiped out climbing Deer Park, Kevin thought he saw Jesus on the way up and my head felt like it was ready to explode about three quarters through the climb.  Nonetheless, it's a beautiful ride through huge swaths of ancient redwoods near the peak and we were the only bikers on it.
The peak of Deer Park Fire Trail joins up with Coastal View Trail and Dipsea Trail at roughly 1310 feet above sea level, feels like the end of the earth up there with a steep drop to Stinson Beach to the north and Muir Beach to the south.  We were so wiped by the time we reached the summit of Deep Park that – if not for two pieces of zucchini-pear bread in my pack – we might have chosen to ride down Panoramic Highway and back to Mill Valley.  But after a quick sugar burst we re-mounted the helmet camera and took off down Coastal View.
Coastal View is one of those trails that makes you thankful for being alive and able to enjoy the outdoors.  It's a super fast and flowing singletrack following the ridgeline down to Shoreline Highway, dropping through 1250 feet of vertical in the space of 2.5 miles.  It's hard to know where to look when ripping down the trail, the view to the south is a breathtaking vista of the Marin Headlands, Ocean Beach and – on a clear day like yesterday – the mountain range down toward Santa Cruz.
After navigating the seemingly endless switchbacks along Heather Cut-Off, our original plan was to make our final climb up Diaz Ridge Fire Trail and back into Mill Valley but our bodies just didn't have it in them.  We cruised – slowly but surely – back up the pavement on Muir Woods Road through another 650 feet of vertical to Four Corners and then back down Edgewood into Mill Valley. 
Four hours of almost non-stop riding and close to 3000 feet of climbing, that's what I call a Saturday to remember.  Thanks to the Marin County Bicycle Coalition for the map above (a full-sized version is here).  The helmet camera footage of our descents are viewable below (pardon my language in one or two spots!).