Sergeant William Fraass Get A Real Job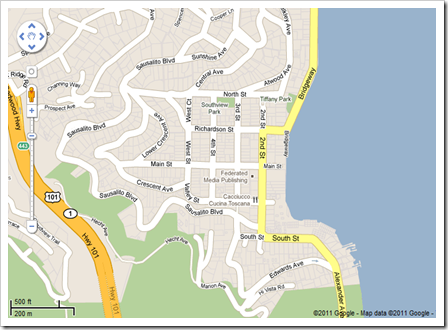 Yesterday afternoon I was riding home from work, as I do most days when it's not raining.  As I was making my way into Sausalito down South Street and onto 2nd I was stuck behind a driver who was concentrating on everything other than looking straight ahead – either a tourist or someone lost, both of which I regularly have to deal with near the Sausalito waterfront.  On the downhill section of 2nd Street the erratic driver came to an almost complete stop for no apparent reason – there was nothing in front of his car, nowhere to turn, and no immediate impediment to his passage along 2nd.  I noticed the guy was looking up the hill into the neighborhood along Valley Street so, as I'm sure most cyclists would have done, I veered around the left side of his vehicle to continue on my way.  In doing so I crossed the center solid line on 2nd Street for what must have been a few milliseconds.
As I was happily continuing on my way down Bridgeway I was surprised to hear a police siren behind me.  I looked over my shoulder and to my surprise discovered that I was being pulled over.  I was ticketed with a California Vehicle Code infraction of law 21460(a) for crossing over the double yellow line!  The officer – Sergeant William (Bill) Fraass, pictured here giving some other unfortunate peddlers a ticket – was not in the slightest bit interested in the fact that the vehicle I passed came to an almost complete stop for no apparent reason, that there is no bicycle lane on 2nd Street in which to pass, or that the driver of the vehicle was driving erratically and thus endangering my safety.  I have been warned about rolling through stop signs and crosswalks before, which is fair enough, but actually being ticketed for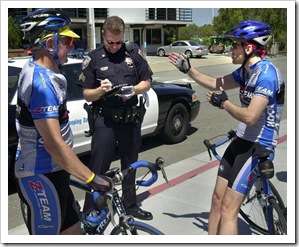 avoiding a tourist who almost completely stops in the middle of the road, that is just ridiculous.  So Sergeant Fraass, if you ever Google your name and come across this post, how about you spend your time and my tax dollars on dealing with issues that are pertinent to the community rather than targeting innocent cyclists who are simply concerned with their safety.  Stinging cyclists like this is nothing more than an excuse to drum-up money for the City of Sausalito which, as one of the most affluent areas in the country, I can't imagine is really hurting for funding…
As you can tell, I'm quite perturbed about this whole saga.  Fortunately, California allows one to contest traffic infractions such as this via trial by written declaration.  Police in California get paid overtime for attending court when people contest in person, but they are not paid anything extra for the paperwork required to respond to a trial by written declaration.  So Sergeant Fraass, I hope you enjoy paper work because some is coming your way!