Castle Peak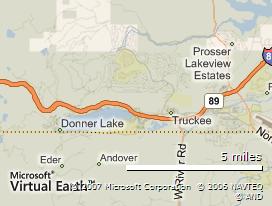 Luke and I have been throwing around the idea of getting hold of some randonee skis for a while now, so with the nice weather we've been having we decided it was time for some Sierra backcountry skiing.  Luke, Katrina and I shot up to Truckee this morning and after talking to the folk at Truckee's preeminent AT ski store, The Backcountry, we decided that Castle Peak was the goal for the day.
Castle Peak sits on the northern side of I-80 just across the valley from Boreal Ski Resort.  It was an almost 2,000 foot skin up to the top of the Peak, which is a little over 9,100 feet in elevation.  We sure earned our turns down the western face of the peak, it seemed like every few hundred vertical feet we all took off another layer of clothing!  Big ups to K.C. for some of the great shots below…
Ellie with the western Sierra in the background and the ridge we climbed to the summit (left).  Luke, Katrina and Ellie on the way up (right).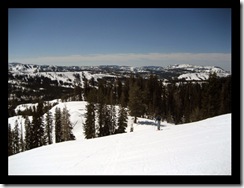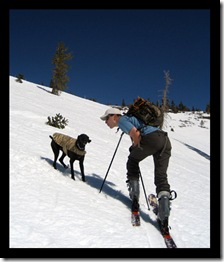 Me on the way up Castle Peak's nose (left) and Luke gets a little too intimate with Ellie (right).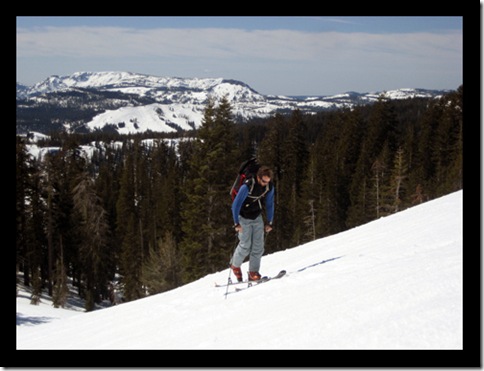 Me on the way up Castle Peak's nose.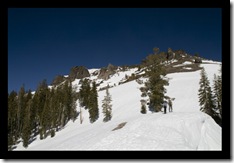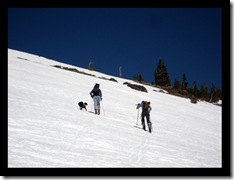 The ridge we hiked up to the top (left) and Luke, Ellie and me on the way around the nose (right).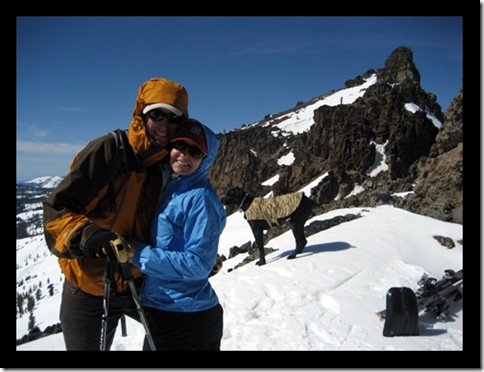 Luke and Katrina with Castle Peak's summit in the background.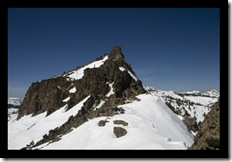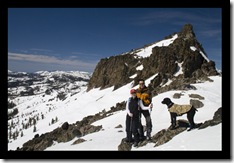 The Castle Peak summit (left) with Luke, Katrina and the northern Sierra in the distance (right).  You'd need rock climbing gear to make it all the way up to the summit from the southern direction, the way we went.  We were a couple of hundred feet shy…  We skied down the bowl on the left hand side of the summit.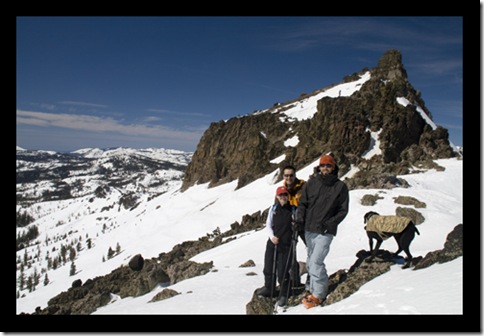 The four of us a couple of hundred feet below the Castle Peak summit.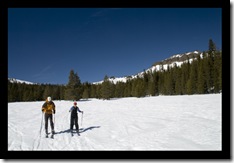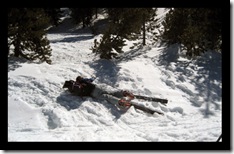 Luke and Katrina skinning through the meadow on the way down with Castle Peak in the background to the right (right).  I learned the hard way, a couple of times, not to lean too far forward with my heels unlocked (right)!  My right knee has a nice shiner from nailing my ski tips on the way down…